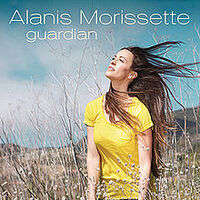 Guardian is the first single off of Alanis Morissette's 8th studio album, Havoc and Bright Lights, which was released on August 22nd, 2012. The single itself was released much earlier, on May 11th, 2012. It was written by Morissette and Guy Sigsworth, and produced by Sigsworth and Joe Chiccarelli.
When Morissette released a lyric video for "Guardian" on May 10th, 2012, she also released the following message about the lyrics: "So excited to share these with you. The greatest offering and aspiration within any relationship, for me, is the willingness to combine protection, commitment, vulnerability, tenacity, tenderness, constancy, empathy, mutuality, intentionality, innocence, presence, courage, freedom-offering and beautiful humanity at the same time. This song speaks to that commitment to both my sweet son, as well as my own inner child". [1]
Lyrics
To view the lyrics of Guardian, visit the Lyric Wiki.
Videos
| | |
| --- | --- |
| Alanis Morissette "Guardian" - Official Music Video | Alanis Morissette - "Guardian" Lyric Video |
| "Guardian" (Official Video) | "Guardian" (Lyric Video) |
Live Performances of the Song
| | |
| --- | --- |
| Alanis Morissette Performs 'Guardian' | Alanis Morissette - Guardian - DWTS 2012 |
| Live on Ellen | Live on Dancing With the Stars |
References